Month: September, 2011
Pin It
every once in a while, in the running-along-trying-to-get-it-all-done-ness of life, a moment occurs that brings me to a screaming halt… back to the heart of what is eternally valuable and heartbreakingly real.  the story of lauren and jon and their precious baby boys, whose life on earth flickered so quickly, creates just such a moment.
i met these parents when i received the call requesting services for Now I Lay Me Down to Sleep, an organization i volunteer for because i am called… and because through it i have the opportunity to validate the lives of little ones whose families have them in arms so briefly.  every session is emotional, but i felt an immediate connection with these two and their family… and with their beautiful baby boy, the second son they had lost, who passed into his Heavenly Father's arms just before i met him.
lauren and jon invited me to join them for an intimate memorial for their sweet boy and it is with their permission that i share this video with you, and for a purpose.  first, it is my hope that it will encourage you to celebrate the lives of those you love.  i was struck with the hope that shined through the pain as lauren and her husband celebrated their "sticky bean" through letters of love and honor -  they managed to laugh together and rejoice in their love and their love for their little boys.
second, i pray that you will be challenged to action – to reach out to someone near you who may be hurting, whose heart you can encourage.  below the video is information about an event lauren is hosting that offers the chance to do just that.  to watch the video, click on the image below.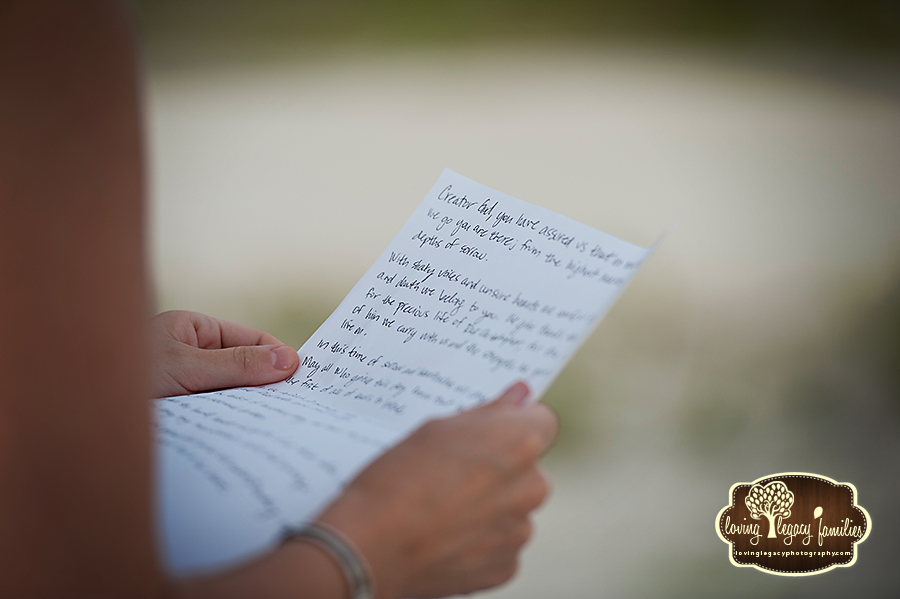 lauren has allowed her family's painful journey to spur good for others, and she will be hosting an event in October for Babyloss Remembrance Day.  Following is the press release for the event.  If you or someone you know has lost a little one, please consider attending and sharing this information.
Gathering Planned for October 15, National Remembrance Day
The United States has designated October 15 as National Remembrance Day for families who have experienced the death of a baby during pregnancy or infancy.  In recognition of this day, the community is invited to gather together at Crescent Lake Park in St. Petersburg to participate in an environmentally friendly balloon release in celebration of the short but precious lives of the little ones we so deeply love and desperately miss.  The release will take place promptly at 6:00 PM on Saturday, October 15.  Guests are encouraged to arrive early to allow time to write notes to their children on seed paper, which will be handed out along with biodegradable balloons from 5:00-5:45 PM.  Precautions are being taken to ensure that this is an eco-friendly event, so we must insist that nobody brings their own balloons.  This event is free but donations are greatly appreciated.  To register please contact: lauren.e.highfill@gmail.com
This Remembrance Gathering is being held in affiliation with Sweet Pea Project and is hosted by Lauren Highfill Symmes, who is volunteering her efforts in memory of her own beautiful child, Rex Christopher.  Sweet Pea Project, a 501(c)3 nonprofit organization that offers comfort, support and gentle guidance to families who have experienced the death of a baby during pregnancy or infancy, was founded by Stephanie Paige Cole after the death of her daughter Madeline.  Sweet Pea Project is headquartered in Pennsylvania, but reaches out to families across the country and internationally through their blanket and book donation programs.  The official Sweet Pea Project Annual Remembrance Gathering will be happening on the same evening in Lancaster, PA.  For more information on Sweet Pea Project please visit www.sweetpeaproject.org.
thank you for allowing me to share… hugs!  –angela